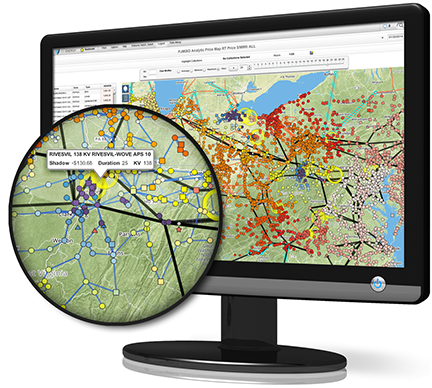 PRODUCT FEATURES
Real time updates and extensive history

Dynamic platform that evolves with the markets

Live price maps, drill down to details

Integrated view of market drivers

Market screening tools

Charts, graphs, alerts, watchlists

Powerful scans - ID top and bottom performers

Prices, constraints, outages, weather, load

Portfolio management tools

Daily P&L performance reporting
Real Time Visual Analytics
Created with Virtual, Spread and FTR traders in mind, over 1,000 ISO market traders use PowerSignals every day. Use PowerSignals to immerse yourself in market data, understand the latest patterns, develop trade strategy, make trade decisions, manage your portfolio and monitor P&L performance.
Unique Approach to Market Data
PowerSignals delivers market information within seconds of when data is released by the ISO or other primary data sources. These real time updates are appended to a growing historic database containing market data from the inception of each ISO market. Corrections and updates to original data are posted automatically. PowerSignals' dynamic system evolves to include new markets, new entrants and new products as soon as they begin.
Data collection and validation are only the beginning of our data processes. Incoming data are linked to a consistent market map of nodes, transmission lines, generation and transmission outages, constraints and power plants. Linking market data to the market map creates a visual and analytical context to quickly and easily understand the relationship between prices and key market drivers.
Analytic Tools
PowerSignals incorporates analytic tools designed to support ISO trader workflows. Using maps, charts, tables and drilldowns, our tools transform huge amounts of detailed data into actionable insight. Each tool is informed by the collective input of PowerSignals users, keeping them closely aligned with common activities including market scans, price maps, time-series analysis, like-condition comparisons, performance distribution reports, node monitors, constraint and outage profiles and more.
Portfolio Management Tools
Use PowerSignals to build and manage your portfolios. Built-in linkage between market and portfolio data allows interactive portfolio tuning for better performance. Efficiently track the P&L on your book with PowerSignals' real time ISO data collectors and see what was cleared as soon as results are posted by the ISO.
Customer Support
Customer satisfaction is our top priority. Along with onsite training and our extensive library of online tutorials, PowerSignals includes access to our dedicated, on-call support staff. LEARN MORE >>